The following paper is the fourth  of a series of chapters from Dr. Ishikawa's highly acclaimed treatise on management, "The Miracle of Seven-Eleven Japan" which will be featured in the Journal over the next several issues (to review the previous chapters, see "The Information Industry: Converting the 'Change' into a 'Chance'" in the November-December 2002 issue of this Journal, "Analyzing the Robustness of 7-Eleven Japan According to Personality and Organization" in the January-February 2003 issue, and The Fifth Integrated Information System Connecting Chain Stores Utilizing Satellite Communications" in the March-April 2003 issue).  Professor Ishikawa received his Ph.D. from the Graduate School of Business Administration of the University of Texas at Austin in 1972, and undertook his postdoctoral studies at the Massachusetts Institute of Technology in 1973. He was awarded a Cultural Doctorate from the University of the World in 1985, and a Doctor Honors Causal in recognition of his outstanding accomplishments and distinguished service to mankind from the International Institute for Advanced Studies in Systems Research and Cybernetics in 1999. Professor Ishikawa is a member of the BWW Editorial Advisory Board and is the driving force behind The Intellectual Olympics, a feature article on which appeared in the September-October 2001 issue of this Journal.
<![if !supportEmptyParas]> <![endif]>
Currently, some of the convenience chains provide in-house cash dispensers (CD) for credit cards. Credit card holders can enjoy cashing services with Lawson's in-house CD not only with the credit card issued by the Daiei Group but also with several other credit card companies.
<![if !supportEmptyParas]> <![endif]>
In-house CDs installed in the convenience stores are expected to pull in more customers, most obviously credit card holders. These customers predictably stay to buy something after they have just made a withdrawal by CD. Thus, cashing and shopping could be combined which is profitable for stores and useful for customers. However, CD machines take up space in the store and probably this function will be integrated with the multifunctional terminal, i.e., MMS in the future.
<![if !supportEmptyParas]> <![endif]>
Credit card payments exclude MMS products because Lawson accepts only cash payment at the counter for most MMS products. The reason is: Lawson considers communications with customers at the register very important. The installation of CD machines for credit cards could be seen as a first step toward "unifying retail and banking roles".
<![if !supportEmptyParas]> <![endif]>
<![if !supportEmptyParas]> <![endif]>
Banking Industry and Convenience Store Cooperation With ATM Installations?
<![if !supportEmptyParas]> <![endif]>
The banking industry has been expanding their retail bases by opening unmanned ATM-only branches. Furthermore, there are other banking sectors expecting future deregulation, which are in the process of studying the possibilities of installing ATMs in convenience stores. For customers of convenience stores, it would be a further convenience to be able to make a withdrawal from an ATM which is opened 24 hours and 365 days. Convenience stores can also expect more customers in addition to credit card holders. Thus, the introduction of ATMs would seem to be able to attract many new customers.
<![if !supportEmptyParas]> <![endif]>
On the other hand, key issues include the management of this 24-hour service by the banking industry and the security factor in the convenience stores. Circle K. Japan has been installing ATMs of Tokai Bank, Ltd. since July 1997 in some of its stores. Some 200 customers per day on average make cash withdrawals from the ATMs and 20% out of the 200 customers are found to do some "incidental shopping" after withdrawing cash. So the unification of the retail with banking industries is already well underway.
<![if !supportEmptyParas]> <![endif]>
Buying and Selling Dollars at the Convenience Store?
<![if !supportEmptyParas]> <![endif]>
With the revised Foreign Exchange and Foreign Trade Control Law enforced from April 1998, foreign currency exchange will be completely liberalized. This means the time will come when anybody can exchange foreign currency due to this Big Bang financial deregulation. Some companies in the convenience industry are already studying the possibilities of moving into this sector. Glory, Ltd., a maker of money handling machines has developed an automatic exchange equipment specialized in foreign currency. It plans to sell this equipment to convenience stores and others. However, it is not so easy to predict how many people will use this equipment in the convenience stores.
<![if !supportEmptyParas]> <![endif]>
Apart from stores located in business areas and the surrounding areas of airports and hotels, the market scale for the entire convenience industry all over Japan is not big enough to be profitable. Furthermore, stores must bear the risk of floating exchange rates and the problems of security management exist. It would seem to be a rather limited service for the time being.
<![if !supportEmptyParas]> <![endif]>
Unification of Retail and Banking Sectors in England
<![if !supportEmptyParas]> <![endif]>
In England, the major retail industry moves into the banking sector and "unification of retail and banking sector" have been proceeding rapidly. There are many things which the Japanese convenience industry can learn from the unification of retail and banking sectors in England. There is good reference data available for studying the prospective future moves of the convenience industry.
<![if !supportEmptyParas]> <![endif]>
In 1997, the major supermarket chain, Sainsbury, established the Sainsbury Bank jointly with the Bank of Scotland. As the supermarket chain took over the leadership of the bank, it could be called a "supermarket bank". Sainsbury also entered a partnership with Abbey National, a financial institution based in England in the Table 9-1.
<![if !supportEmptyParas]> <![endif]>
<![if !supportEmptyParas]> <![endif]>
Development process of "unifying retailers and banking sector" in England

same year. The Sainsbury Bank focuses on the areas of saving deposits, non-collateral loans, property financing, and the payment of credit cards, etc. It contracts out an ATM network and accounting system to the associate bank to achieve lower operating costs. Sainsbury supermarkets prepare leaflets of the bank in the store and provides a special corner where customers can make a direct call to the telephone center of the bank. Customers therefore can open a bank account, apply for loans or make balance inquiries by phone using this direct line or by calling from home.
<![if !supportEmptyParas]> <![endif]>
In the retail industry in England, an oligopoly of six major supermarkets has been developing which account for some 70% of the total market. The supermarket is an indispensable part of people's life. It is the strategy of the supermarket to use all its know-how accumulated so far in order to attract customers to the banking sector. Since supermarket banks offer customers higher interest rates than those of existing banks, Sainsbury Bank has already obtained accounts of 400,000 people. It will not be difficult for further development of financial instruments and sales. It is quite probable that supermarkets, because of their increased confidence, will not opt for a joint venture subsidiary with a bank but for a single subsidiary 100% owned by the supermarket.
<![if !supportEmptyParas]> <![endif]>
Actually Marks and Spencer Financial Services, 100% owned by the department store and established in 1985, has grown to be such a successful enterprise that it has become the leading profit contributor of the entire group. The success of supermarket banking in England indicates that "unification of retail and banking sector" will progress further in future.
<![if !supportEmptyParas]> <![endif]>
Unification of Retail and Banking Sectors Progresses in Japan
<![if !supportEmptyParas]> <![endif]>
With Japan's Big Bang in April 1998, the retail industry has also started to prepare their move into the banking sector. Credit Saison which belongs to the Saison Group, has already obtained 15 million customers' credit membership and accumulated huge amount of customer data. It has introduced a parallel-processing supercomputer to study the methods of using their customer base information for marketing purposes. Furthermore, the Saison Group owns Saison Securities Co., Saison Life Insurance Co., Ltd., and All State Automobile and Fire Insurance Co., Ltd. Thus it has already made its strategic movement to the area of securities and life insurance.
<![if !supportEmptyParas]> <![endif]>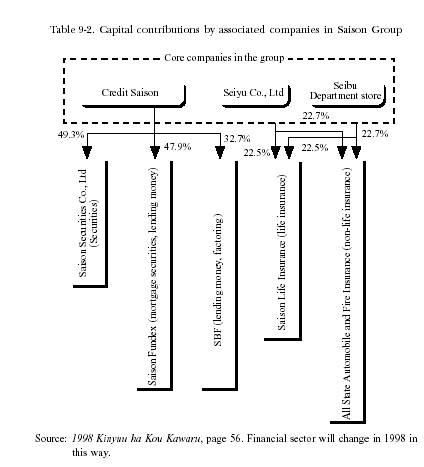 <![if !supportEmptyParas]> <![endif]>
<![if !supportEmptyParas]> <![endif]>
Credit Saison Co., Ltd also has a plan to tie up with American Express International which has many card members from the advanced age group and is aiming at the expansion of its customer base of credit-card holders.
<![if !supportEmptyParas]> <![endif]>
A big focus of the Big Bang is how to incorporate private financial assets amounting to 1200 trillion yen. The Saison Group, holding many retail businesses with close contact to customers on a daily basis, will probably have the advantage over others "when retail and banking sector will be united". Jusco Group has AEON Credit Service with over 5 million members. Together with the number of its supermarkets, and Minitop a convenience store, its entire number of stores exceeds 1,000. So it will have a strong foundation for developing financial business.
<![if !supportEmptyParas]> <![endif]>
Jusco Group is said to be considering the establishment of an affiliated bank like the "Supermarket bank" in England. Also it is planning to introduce a network system to deal with the sale of bonds and other financial business for customers at home and abroad, and develops a financial "unification of retail and banking sector".
<![if !supportEmptyParas]> <![endif]>
The Daiei Group has Daiei OMC, a credit company and cardholders can use any CD machine in the Lawson chain. The Daiei group is very positive in acquiring know-how in the area of financial services and has participated very often in the practical experiment of electronic money "visa cash" that has been held in Kyoto since October 1997.
<![if !supportEmptyParas]> <![endif]>
7-Eleven Japan, on the contrary, is not taking much action at present, but has started the introduction of the fifth integrated information system that has a function to connect with banking facilities.
<![if !supportEmptyParas]> <![endif]>
After the Japanese Big Bang, the information concerning customers and retail stores will be even more a precious "management resource" than ever. Methods on how to utilize this precious management resource will be the key point to establish an advantageous position in competition.
<![if !supportEmptyParas]> <![endif]>
Electronic Money and the Convenience Industry
<![if !supportEmptyParas]> <![endif]>
Currently, the commercial possibilities of electronic money have been tried in many countries. If electronic money materialize, the advantages which the convenience industry would receive would be enormous as it will no longer be necessary to use cash in the store.
<![if !supportEmptyParas]> <![endif]>
Although there is no clear definition of electronic money, it is generally understood as "digitized currency". Two definitions of electronic money exist:
<![if !supportEmptyParas]> <![endif]>
1. "IC card type electronic money" works like a credit card.
2. "Network type electronic money" conducts payment on a network.
<![if !supportEmptyParas]> <![endif]>
It is assumed that "IC card type electronic money" will establish closer connections with the convenience industry in the near future.
<![if !supportEmptyParas]> <![endif]>
<![if !supportEmptyParas]> <![endif]>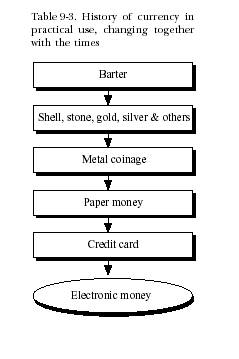 <![if !supportEmptyParas]> <![endif]>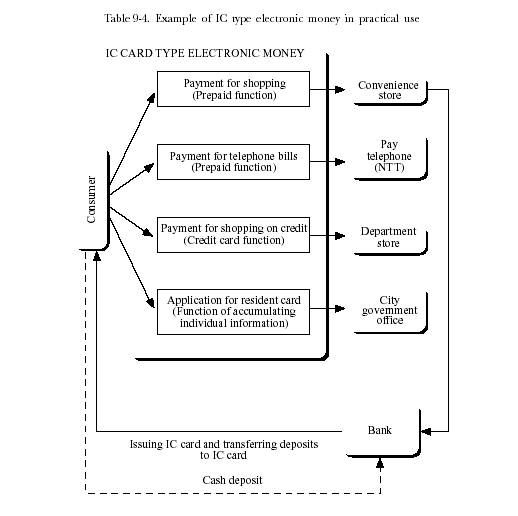 <![if !supportEmptyParas]> <![endif]>
The IC card has an outward appearance of a bank card, but has an ultra compact microprocessor and memory imbedded in the card.
<![if !supportEmptyParas]> <![endif]>
The total amount of money possessed will be saved in the memory and customers can pay by inserting the IC card into the card reader at the store. The convenience store can connect this card reader to the POS terminal. The amount of money in the ATM can be repeatedly replenished by the IC card. Furthermore "IC card type electronic money" and "network type electronic money" will be integrated if replenishment of the amount of money is possible by using the computer connected with the network. The individual information and historical records of the use of the card can also be entered. If the information is in the memory, the card can be used as a credit card or even as an ID to issue a resident's card. The possibility of this multi-purpose use of a single IC card is highly exciting. Various kinds of prepaid cards, i.e., telephone cards or train cards issued by Japan Railway will have the possibility of being integrated into a single IC card. Since the commission levied when using a credit card will not be charged for electronic money, it will be suitable for payment of small sums. In addition, the preparation of small change at the store would no longer be required.
<![if !supportEmptyParas]> <![endif]>
The "IC card type electronic money" has several problems such as complex security issues which are yet to be solved for future commercial practicality. However, "the age of electronic money" will no doubt arrive in the near future. It is said that when 7-Eleven started its information system development in 1977, built into the system was the prospect of the commercialization of electronic money. As an agent for payment acceptance of various bills, the convenience industry has already moved into the banking sector.
<![if !supportEmptyParas]> <![endif]>
When electronic money arrives, the convenience industry will be able to start new financial services being armed with multiple stores and information network. From the viewpoint of "integration of retail with banking sectors", we cannot neglect the future trends of electronic money.
<![if !supportEmptyParas]> <![endif]>
Survival of Convenience Stores in the Age of Electronic Money
<![if !supportEmptyParas]> <![endif]>
If electronic money has already arrived, the "integration of retailers with banking sectors" would have made more progress. Convenience chain stores with superior information networks and with their total number of stores should have far better advantages because they can provide customers with the "convenience near at hand" or the convenience of one-stop shopping.
<![if !supportEmptyParas]> <![endif]>
For several years, the oligopoly of three major convenience chains has been expanding. With this affluent financial power background, the major convenience chains have established powerful information systems. So far, the information system has contributed to the efficiency in the operations of item-by-item management, and has offered new services. In future it will play an important role in transmitting financial information during the age of electronic money. With these changes, small convenience chains with inferior information systems will be dismissed from the market. At the same time, there will be no guarantee that these big three companies will survive, as superiority in hardware only is not enough for surviving the competition. Only enterprises which successfully take the side of "new changes" will be able to win the survival race.
<![if !supportEmptyParas]> <![endif]>
<![if !supportEmptyParas]> <![endif]>
Dr. Ishikawa's book will be continued in the upcoming July-August 2003 issue. Readers wishing to acquire copies of Dr. Ishikawa's complete book, The Miracle of Seven-Eleven Japan, may contact local bookstores or order direct from World Scientific Publishing Co., Inc., 1060 Main St., River Edge, NJ 07661; (800) 227-7562; Fax: (888) 977-2665; sales@wspc.com. More details regarding Dr. Ishikawa's book may be obtained via: http://www.wspc.com.sg/books/eastasianstudies/4981.html
<![if !supportEmptyParas]> <![endif]>