Management Science:
"The Information Industry" Converting the "Change" into a "Chance"
By Professor Akira Ishikawa
Graduate School of International Politics, Economics and Business
Aoyama Gakuin University
The following paper is the first of a series of chapters from Dr. Ishikawa's highly acclaimed treatise on management, "The Miracle of Seven-Eleven Japan" which will be featured in the Journal over the next several issues.† Professor Ishikawa received his Ph.D. from the Graduate School of Business Administration of the University of Texas at Austin in 1972, and undertook his postdoctoral studies at the Massachusetts Institute of Technology in 1973. He was awarded a Cultural Doctorate from the University of the World in 1985, and a Doctor Honors Causal in recognition of his outstanding accomplishments and distinguished service to mankind from the International Institute for Advanced Studies in Systems Research and Cybernetics in 1999. Professor Ishikawa is a member of the BWW Editorial Advisory Board and is the driving force behind The Intellectual Olympics, a feature article on which appeared in the September-October 2001 issue of this Journal.
<![if !supportEmptyParas]> <![endif]>
Chapter One: Dealing with Changing Times and 7-Eleven Japanís Continuing Self-Reformations
<![if !supportEmptyParas]> <![endif]>
A central business creed of 7-Eleven Japan is concerned with "dealing with the change of the times". 7-Eleven Japan, by making a friend of "change", has often managed to convert the change and uncertainty into a lucrative business opportunity. Perhaps it is more accurate to say that 7-Eleven Japan, by taking on the change of the times before others, has been able to better adapt due to a process of conducting rapid reformations of itself. "Change and reformation" are the keywords when analyzing 7-Eleven Japan. Since the establishment of operations in 1973, 7-Eleven Japan has performed several of these major reformations.
Firstly, we must look at the distribution system of the retail industry prior to the establishment of 7-Eleven Japan. The system was dominated by the major manufacturers and by their appointed wholesale stores. These appointed wholesale stores in turn handled goods made exclusively by those certain manufacturers. This did not match the requirements of 7-Eleven Japan which needed a flexible system with the ability to deliver products rapidly and whenever necessary. Therefore, 7-Eleven Japan created a wholesale store for every major area and established a distribution system called "intensive delivery". In this way, it became possible that products from multiple manufacturers to be delivered quickly and efficiently to stores. This had the ancillary benefit of reducing the number of delivery vans required, which also contributed significantly to cost savings. This intensive delivery method has since developed into a system called "joint delivery" which became even more effective. This is the major first reformation/transformation performed by 7-Eleven Japan.
In the 1970ís, 7-Eleven Japan was constantly expanding the overall number of stores. However, in the 1980ís, a chronic situation of over-supply was apparent in the market. In addition, an increasingly diverse pattern of individualization among consumers had developed in the market and competition within the industry itself had greatly intensified. In order to cope with these changing external factors, 7-Eleven Japan pursued a core strategy of getting rid of non-selling products from the store shelves. To this particular end, 7-Eleven Japan developed the skill of "item-by-item management " and introduced POS (Point of Sale) technology, which was utilized as the primary tool for handling this management process. POS information was also directly used for new product development with the result that 7-Eleven Japanís ability to develop new products made very substantial progress. The introduction of "item-by-item management" by 7-Eleven Japan is worthy of being described as the second major reformation/transformation. It moved the competition of the convenience store industry from a "quantitative expansion" ideal to a more "quality improvement" type concept.
In 1990, 7-Eleven Japan established the "fourth integrated information system" which connected all chain stores using ISDN lines. As the transmission of large volumes of information became possible, other new services such as that of acting as the intermediary for payment acceptance were rapidly developed one after another. This meant the store was not only a place where products were sold but also a place that offered consumers several useful services. This change is the third major reformation achieved by 7-Eleven Japan.
In 1997, the "fifth integrated information system" which connects all chain stores with a multimedia function started operation. As online image data transmission to member stores became possible, 7-Eleven Japan could even pay closer attention to the education and information provision of its stores. One of the key features of this system is the ability it possesses to deal with the emergence of electronic money and business expansion. This fourth reformation has just begun and aims to assist 7-Eleven Japanís fortunes well into the 21st century. So in conclusion, it cannot be denied that 7- Eleven Japan indeed has a rich history of reformations.

Establishment of a Business Creed to Meet Social Change
In the early 1970ís, the competition among small- to medium-sized retailers, department stores and supermarkets in the retail industry had greatly intensified. At this particular time, after experiencing the oil shock in 1973, the Japanese economy was at the turning point of moving from a period of high economic growth to a much slower rate of growth. It is worth pondering how 7-Eleven Japan accomplished such a successful entry to the retail industry under such unfavorable economic conditions. In 1974, the "Large Scale Retail Store Law" regulating the set-up of large-scale retail stores and new rules on business hours was introduced. This law was primarily designed to protect existing small- to medium-sized retail stores. Essentially, it aimed to restrict the set-up of large-scale retail stores in prime shopping districts and other favorable locations such as train station squares. As a consequence, large-scale mass-market retail stores were forced to set up stores in less favorable locations in the outskirts of the city center and suburbs. However the small- to medium-sized retail stores, despite being under the protection of this new law, began to lose their competitiveness due to inefficiency, lack of effort and the difficulty in finding successors to take over the business when they retired. As a result of this, many such shopping districts lost their customers and set off on the road to decline. Customers were instead attracted to the bigger stores in the suburbs. At this time, Ito- Yokado Co., Ltd. looked at the possibility of setting up small-sized stores that would not be in conflict with the "Large Scale Retail Store Law". However, they would be located in the prime shopping districts and other restricted key locations including train station squares. The exploitation of this legal loophole, so to speak, was also the reason why many other small-sized chain stores by the name of convenience stores were born.
Also at the same time big social changes were taking place in Japan. The expression "workaholic" became very common at this time, as many working men and women had become bound by very long working hours. There was a large element of personal sacrifice for the benefit and loyalty of the company to which they belonged. Some workers were even transferred away from their families to new company working locations. Other social changes included the increased amount of part-time work by housewives; additionally, even trend of young people tending to go to bed later than before was another factor. Peopleís daily schedules became increasingly busier and this left people with insufficient time to do shopping at their leisure. Convenience became the new buzzword. People tended to look for "time convenience" which would enable them to do their shopping at night. "Convenience of being just around the corner" which allowed them to do shopping near home or at least in the train station square. "One-stop shopping" gave shoppers the chance to purchase all the necessary things they wanted in one place.
However, on the other side of the fence, the medium- and small-sized stores were not able to cope with these new demands from customers. It was the convenience stores that were able to bridge the gap. The concept of "offering convenience" simply could not be found in the conventional retail industry. Therefore, we must commend 7-Eleven Japanís foresight in spotting this change ahead of the pack and committing to the tie-up with Southland USA in order to launch the first group of full-scale convenience stores in Japan. So we can see that the business creed of 7-Eleven Japan of a "quick response to change" was already well practiced even at the time of its establishment.
Converting "Problems" into "Opportunities"
At the time of rapid economic growth in the 1960ís, supermarkets also enjoyed a period of rapid growth. However, this clearly posed a large threat to the management of medium- and small-sized retail stores of this time. As previously described, the "Large Scale Retail Store Law" was supposed to protect the medium and small retailers by enforcing very strong regulation in the setting up of large-scale retail stores in the shopping districts. A key management philosophy of Ito-Yokado Co., Ltd., a parent company of 7-Eleven Japan, was "co-existence and co-prosperity". For Ito-Yokado Co., Ltd., not only "co-existence and co-prosperity" with suppliers but also "co-existence and co-prosperity" with the local community is very important.
Under the auspices of the "Large Scale Retail Store Law", Ito-Yokado Co., Ltd. judged that it was not possible to avoid opposition from the small- to medium-sized retail stores simply by setting up convenience stores. Therefore, it tried to minimize the number of stores under its direct management and deployed the strategy of the franchise system. The purpose of this strategy was to give local stores the opportunity to become convenience stores. This was considered a major contribution to the local community. Many small-sized stores lagged behind the times and have since been obliged to stop business completely or totally change their method of business. Therefore the franchise stores of 7-Eleven Japan offered good opportunities for the local stores to change to a method with
a better chance of survival into the future. Generally speaking, franchise stores run by self-employed owners have much better results than stores that are run by salaried employees acting as the manager. Due to the franchise system, the burden of providing funds on the part of the headquarters could be minimized and the headquarters was able to obtain stores in the best locations. The higher ratio of franchise stores contributed to the high gains of 7- Eleven Japan. Therefore, 7-Eleven Japan converted problems of "co-existence" and "co-prosperity" to a "structure with high gains".
7-Eleven Japan Becomes an "Information Industry"
7-Eleven Japan could be viewed as an "information industry" in two ways. The first is due to the dependence of the headquarters on its satellite income sources and the second is the information system employed throughout the entire chain. Basically, 7-Eleven Japan consists of the headquarters and its member stores dotted all around the country. All member stores, except those stores under direct management of HQ, are franchise stores run by self-employed managers. The headquarters connects all member stores on-line and furnishes them with sales results, inventory information, new product information, weather information and general information and know-how on store management. Member stores pay 40% to 45% of their total gross margin to headquarters as a royalty for their membership. Approximately 85% of headquarters total operating profit is composed of these royalties received from member stores. Therefore it seems quite appropriate to label 7-Eleven Japan as an "information industry" as most of the income is the reward for offering information and know-how.
Information and know-how is primarily transmitted from the headquarters to member stores via an integrated information system that connects all chain stores. The information systems of 7-Eleven Japan connects some 7,000 member stores and over 1,000 other business connections, making it the worldís largest network in the retail industry. The headquarters makes full use of POS information in order to control the strategy in the distribution of products and the strategy of individual stores. For member stores this integrated information system is an indispensable tool, especially for sales ordering procedures. Therefore 7-Eleven Japan is an enterprise with high dependence on information. It merits being classified as a "strategic information industry" judging from the features of its management style.
Using the Improvement of Information Technology to Conduct Self-Reformations
Transaction volumes in the provision of the payment-acceptance service for utility bills such as electricity and gas etc. amounted to nearly 300 million in 1996. Also, the service range now extends to the payment-acceptance for mail-order sales organized by Senjukai Co., Ltd. Although this service does not produce big profits itself, many customers are attracted to the store by this service. In addition, new sources of business using information systems such as payment by prepaid card etc. have also been extended. Since adopting the interactive POS system in 1995, it enables direct access to a host computer from a POS register. Previously the store was simply a place for selling goods, but now it has become a place to offer many useful services by using the store information systems. It also contributes to a diversification of service. Therefore, it can be confidently stated that 7-Eleven Japan has honed the ability of converting new information technology into an immediate business opportunity.
It seems quite natural to observe the ever-widening differences in the level of business performance of 7-Eleven Japan, which relentlessly continues its self-reformations, and the department stores and supermarkets, which are still having difficulties in breaking away from the conventional business structure.
A Subsidiary Company Whose Business Performance Has Exceeded Its Two Parent Companies
7-Eleven Japan actually has two parent companies. One is Ito-Yokado Co., Ltd. and the other is Southland Inc., USA, which offered their know-how and expertise at the time 7-Eleven Japan was established.
When comparing the pre-tax profits and sales of 7-Eleven Japan with Ito-Yokado Co., Ltd. (see Table 1-2), the pre-tax profit of 7-Eleven Japan added up to 88.1 billion yen in February 1994 and in doing so, the profits actually exceeded those of its parents for the first time. Since then the business performance of 7-Eleven Japan has exceeded its parents for 4 consecutive terms. In February 1997, the pre-tax profit of 7-Eleven Japan broke the 100 billion barrier. Also the total sales of 7-Eleven Japan chain stores reached 1,609,007,000,000 yen, which exceeded the sales of Ito-Yokado Co., Ltd. In fact the sales figures of Ito-Yokado Co., Ltd. have been stagnant while 7-Eleven Japan has consistently shown more than satisfactory returns. It is therefore almost certain that the subsidiary company will remain ahead of the parent company for the foreseeable future.
In 1973, Ito-Yokado Co., Ltd. had an alliance with Southland Inc. that was to introduce the American concept of 7-Eleven stores to Japan. In contrast to its US parent, 7-Eleven Japan has enjoyed continuous growth since its establishment, while Southland Inc. has not. The United States faced a major financial crisis in the late 1980ís. The causes of Southlandís business insolvency were due to its failures in the sectors of gasoline sales, the oil business, the urban development business as well as intensified competition in the convenience industry. Upon requests from Southland Inc., 7-Eleven Japan established operations in Hawaii and conducted a complete reconstruction of the Hawaii division. In fact, 7-Eleven Japan gained full control over Southland Inc. in 1991 and also started the reconstruction of Southland branches in Canada and the mainland United States. Thanks to 7-Eleven Japanís management efforts of liquidating unprofitable stores and introducing systems such as the practice of item-by-item management, it succeeded in returning Southlandís pre-tax profit to the black in 1994. Thereafter 7-Eleven Japanís reconstruction plans are satisfactorily proceeding. This case represents not only "children" who have outgrown "parents" but also "children" who have saved the lives of "parents". Therefore, this attracts considerable attention as an excellent example of how the management know-how of 7-Eleven Japan could be used in the wider business world.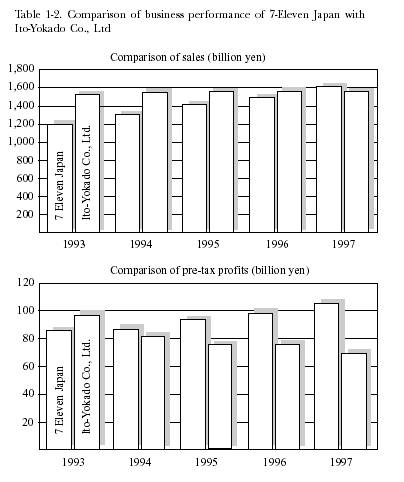 Definition of a Convenience Store
There is no one fixed definition of a convenience store. Nikkei Ryuutsuu Shinbun categorizes chains satisfying the following three conditions as a convenience store:
<![if !supportLists]>1. <![endif]>The sales composition ratio of perishable foods should be less than 30% of total sales.
<![if !supportLists]>2. <![endif]>Business hours per day should be more than 16 hours.
<![if !supportLists]>3. <![endif]>The majority of the department area should be less than 200 square meters.
Another definition comes from the MCR (Manufacturer Convenience Researcher), which specializes in researching convenience chains, and defines stores satisfying the following standards as proper convenience stores:
1. Retail stores with department area of more than 50 square meters but smaller than 230 square meters.
2. Shares of counter sales for general foods (including liquor and confectioneries) should be more than 50% of total sales.
3. Shares of counter sales of liquor, perishable foods, confectioneries, FF (fast food), lunch box, daily dishes and products other than foods should be less than 60% of total sales.
4. Business operations should be open more than 14 hours a day and 340 days a year.
5. Stores should handle more than 1,500 items of convenience products and services.
6. The layout of the store should be of the convenience-style provided with unique energy savings, friendly atmosphere and measures for crime prevention.
7. There is no necessity for an individual to be a member of a chain store group or to be allied with another business to fit in with this definition of a convenience store.
8. Combined type convenience connected with a different category of business would be collectively regarded as a convenience store, provided it corresponds to the following conditions. However, no store that has more than 50 square meters for convenience section will be included in the definition.
<![if !supportLists]>A. <![endif]>Department area of different categories of business (including eat-in corner) should be less than 50% of the entire department area.
<![if !supportLists]>B. <![endif]>Incoming and outgoing activities between the department areas must be freely allowed in the store.
<![if !supportLists]>C. <![endif]>Regardless of decentralization of the cash register, the final accounting business should be unified.
<![if !supportEmptyParas]> <![endif]>
Dr. Ishikawa's book will be continued in the upcoming January-February 2003 issue. Readers wishing to acquire copies of Dr. Ishikawa's complete book, The Miracle of Seven-Eleven Japan, may contact local bookstores or order direct from World Scientific Publishing Co., Inc., 1060 Main St., River Edge, NJ 07661; (800) 227-7562; Fax: (888) 977-2665; sales@wspc.com. More details regarding Dr. Ishikawa's book may be obtained via: http://www.wspc.com.sg/books/eastasianstudies/4981.html
<![if !supportEmptyParas]> <![endif]>
[ back to "Publications & Special Reports" ]
[ BWW Society Home Page ]