The following paper is the third of a series of chapters from Dr. Ishikawa's highly acclaimed treatise on management, "The Miracle of Seven-Eleven Japan" which will be featured in the Journal over the next several issues (to review the previous chapters, see "The Information Industry: Converting the 'Change' into a 'Chance'" in the November-December 2002 issue of this Journal and "Analyzing the Robustness of 7-Eleven Japan According to Personality and Organization" in the January-February 2003 issue).  Professor Ishikawa received his Ph.D. from the Graduate School of Business Administration of the University of Texas at Austin in 1972, and undertook his postdoctoral studies at the Massachusetts Institute of Technology in 1973. He was awarded a Cultural Doctorate from the University of the World in 1985, and a Doctor Honors Causal in recognition of his outstanding accomplishments and distinguished service to mankind from the International Institute for Advanced Studies in Systems Research and Cybernetics in 1999. Professor Ishikawa is a member of the BWW Editorial Advisory Board and is the driving force behind The Intellectual Olympics, a feature article on which appeared in the September-October 2001 issue of this Journal.
<![if !supportEmptyParas]> <![endif]>
<![if !supportEmptyParas]> <![endif]>
The General Concept of the
Fifth Integrated Information System
<![if !supportEmptyParas]> <![endif]>
7-Eleven Japan introduced the fifth integrated information system in November 1997. This system was jointly developed by 12 companies such as Nomura Research Institute (NRI), NEC, Microsoft and others in order to network 50,300 terminals of the headquarters, member stores, regional offices and customers, which comprise the following components.
<![if !supportEmptyParas]> <![endif]>
1. Store systems
2. Systems for order placement, distribution and customer requests
3. Network system
4. Groupware system
5. Transmission system of multimedia information
6. POS information systems
7. POS store register systems
<![if !supportEmptyParas]> <![endif]>
All of these systems were operative by the summer of 1999. Total investment costs will amount to 60 billion yen and it will be the largest network of the distribution industry in the world. The biggest feature of this system is the introduction of satellite communications. Information from headquarters to stores and regional offices is transmitted by satellite links and information from stores to regional offices is transmitted by ISDN links. These transmission speeds are 45 times quicker in comparison with the previous speed and consequently, communication costs will be reduced by approximately 20%. An antenna for the game software demonstration machine produced by Dig Cube Corp. is set up in the store and is also used as a reception antenna as well. Information received from the headquarters is indicated on the display of the store controller or GOT.
<![if !supportEmptyParas]> <![endif]>
Order information from the store and POS information is sent to Nomura Souken, Yokohama Center via ISDN links. The server for orders and the server for collecting and distribution information will also be set up at the Osaka center to prepare for troubles and disasters. Portable personal computers are available for operation field counselor (OFC), this enables the regional offices and stores to be able to access information directly from the headquarters.
<![if !supportEmptyParas]> <![endif]>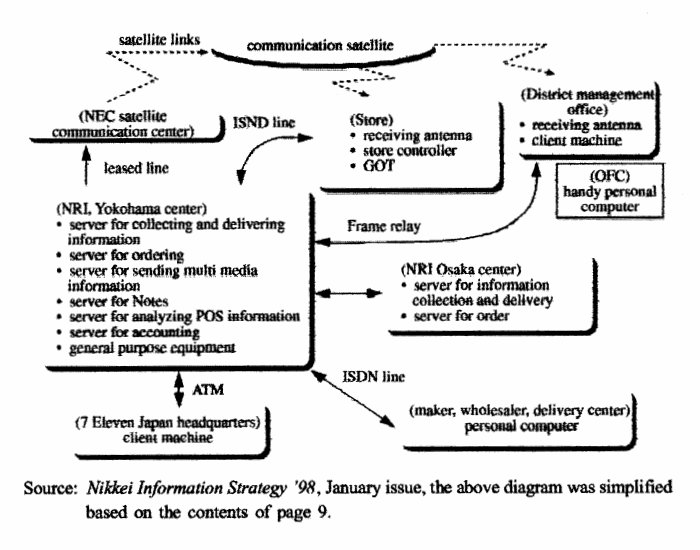 <![if !supportEmptyParas]> <![endif]>
Table 7-1. Fifth integrated information system
<![if !supportEmptyParas]> <![endif]>
Source: Nikkei Information Strategy '98, January issue, the above diagram was simplified
based on the contents of page 9. [What should we reference here instead of "page 9"?]
<![if !supportEmptyParas]> <![endif]>
<![if !supportEmptyParas]> <![endif]>
Due to the increase in the number of new stores, the business performance of the headquarters of 7-Eleven Japan has been improving. However, the sales performances of existing stores have been growing slowly. The biggest reason for introducing this new system is to provide an effective guidance system to stores. To fulfill this purpose, the transmission of multimedia information such as characters, still pictures, animations and sound, in order to create "the store with highly sellable merchandise and services" plays a very important role. In addition, it is a system which is able to respond to changing times such as deregulation and electronic money.
<![if !supportEmptyParas]> <![endif]>
Utilizing "Animations", "Still Pictures" and "Sound" for the Construction of an Attractive Store with Heavy-Selling Items and Services
<![if !supportEmptyParas]> <![endif]>
TV commercials can have a big impact on the sale of merchandise. Until the new technological development brought about by the 5th information system, customers could not see commercials broadcast in the store. The new system was provided with a function to enable the display of TV commercials with sound. At the same time 7-Eleven Japan urged chain stores to sell on a priority basis the specific products that receive strong support from the TV commercials. 7-Eleven Japan has received much favorable attention
as a pioneer of this new skill of "sales closely tied to TV commercials".
<![if !supportEmptyParas]> <![endif]>
The new information system can also furnish chain stores with on-screen images of a successful product display. Therefore, it is possible to see tests pictures of how products should be best displayed in the store. Previously, it was very difficult to communicate accurately what was the most attractive manner of display by explaining in words only. Thus, it has become easier to make more possible the ideal concept of "the attractive store with heavy-selling items and services".
<![if !supportEmptyParas]> <![endif]>
Sales of merchandise are strongly influenced by the weather. Therefore, the new information system is also provided with a function for providing visual weather information displays. In addition, not only the weather information of the surrounding area is included but also the weather information covering wider areas. Due to this, 7-Eleven Japan has often succeeded in attracting people who are planning to go to holiday resorts as they access the system to check the weather.
<![if !supportEmptyParas]> <![endif]>
Using This New System for Smooth Communication with Employees
<![if !supportEmptyParas]> <![endif]>
The new system is also helpful as a communication tool between the store manager and employees. As the convenience store is open 24 hours, it very often happens that workers and managers do not meet each other due to different shift times. In order to avoid this communication gap, a voice-input system is incorporated in the new system, so that all employees who come to the store can hear the store manager's instructions by voice input.
<![if !supportEmptyParas]> <![endif]>
As part-time workers with less experience can also hear the store manager's instructions by voice, it will be helpful for making order placements more accurate. Input of handwritten letters and illustrations are also allowed, so that communication using both eyes and ears becomes possible using this system.
<![if !supportEmptyParas]> <![endif]>
This new system can be used as a tool for communications from employees to the store manager, from the OFC to the store manager and from employee to employee. In general, information sharing is thus made more effective and efficient in terms of store management. The fifth integrated information systems represents 7-Eleven Japan's strong will to construct "an attractive store with heavy-selling goods and services".
<![if !supportEmptyParas]> <![endif]>
Utilization of Multimedia Information for Sales Promotion
<![if !supportEmptyParas]> <![endif]>
At every chain store of 7-Eleven Japan, approximately 70% of the merchandise will be replaced with new items within a year. Since the preference of customers changes rapidly, the life cycle of merchandise is getting shorter year by year. Therefore, new products come on the shelf one after another and poor-selling items are quickly removed. Until the new information system was introduced, 7-Eleven Japan had distributed information material concerning new merchandise in the form of printed matter to each member store.
<![if !supportEmptyParas]> <![endif]>
However, it takes a long time and substantial costs are involved to prepare and distribute the new product materials that total over 2,000 items a year. There are also many unsuccessful products that are removed from the shelf after only two weeks. Therefore, 7-Eleven Japan cannot expect this to be an effective way of sales promotion when it requires a week to prepare and distribute the material. The fifth integrated information system enables the online transmission of material as image information to the stores all at once. It shortens he lead-time drastically and cuts down the cost of paper and distribution. The system with this function of sending multimedia information such as images will be indispensable for sales promotion during "times of change".
<![if !supportEmptyParas]> <![endif]>
An Elaborate Marketing Plan Using a "Data Warehouse"
<![if !supportEmptyParas]> <![endif]>
The "POS information system" component of the fifth integrated information system is attracting much attention and was operative from spring 1998. A new POS information system called "data warehouse" has the capability to accumulate information of item-by-item management for about 400 days in the 6 terabyte capacity of its parallel-processing supercomputer.
<![if !supportEmptyParas]> <![endif]>
Before this system was developed, the conventional system was designed to grasp "what, how, when, and to whom merchandise was sold". Now this new system can analyze "what type of products are sold together". This method to further grasp the customer's
shopping trends is called a "basket analysis" in the sense that the store can grasp the content of a customer's shopping basket. By utilizing this basket analysis, it is possible to develop an elaborate marketing plan.
<![if !supportEmptyParas]> <![endif]>
Further developments include "data-mining technology" to search specific and necessary information from the huge mountain of information, and "push technology" which are used to update automatically information from headquarters. 7-Eleven Japan aims at making order placement more accurate by further substantiation of POS information.
<![if !supportEmptyParas]> <![endif]>
<![if !supportEmptyParas]> <![endif]>
Dr. Ishikawa's book will be continued in the upcoming May-June 2003 issue. Readers wishing to acquire copies of Dr. Ishikawa's complete book, The Miracle of Seven-Eleven Japan, may contact local bookstores or order direct from World Scientific Publishing Co., Inc., 1060 Main St., River Edge, NJ 07661; (800) 227-7562; Fax: (888) 977-2665; sales@wspc.com. More details regarding Dr. Ishikawa's book may be obtained via: http://www.wspc.com.sg/books/eastasianstudies/4981.html
<![if !supportEmptyParas]> <![endif]>
<![if !supportEmptyParas]> <![endif]>